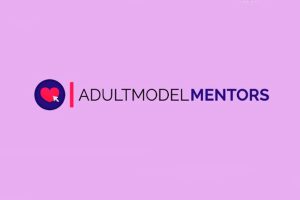 2021 YNOT Cammunity "Most Helpful Model of the Year" nominee and independent entertainer Aerie Saunders and Skype cam model Katy Churchill have announced that Adult Model Mentors is ready to go! The site includes free resources and new content weekly aimed at independent cam, clip, and fan club performers, and also includes the option to purchase individualized, 1-on-1 coaching services from both Aerie and Katy. Katy brings over 8 years of indie industry experience to the table, specializing in Skype and private shows, fetish clips, and phone sex. Aerie brings her experience as an adult webmaster and affiliate as well as 7 years of webcam, content creation, and multiple award nominations including "Best Clip Artist of the Year" twice in the AltPorn Awards and "Best Live Webcam Props" in the ManyVids Community Awards.
The two friends previously collaborated at Webcam Startup, and are excited to launch a new platform that focuses on their specialties. "I love helping models create private show performances that keep their customers coming back for more, and helping models branch out to offer phone sex and fetish clips alongside their cam shows. Writing articles can only go so far, though, and I am excited to sit down with individual performers to help them really shape their businesses and tackle the obstacles standing in their way," said Katy Churchill.
"I completely agree with Katy, I love helping models and I'm so excited to share this project with the community as something to help new performers and seasoned performers. Whether you're looking for fetish information, guides on how to use specific websites, or just general information about getting started we have years of experience and information to help! If the free information isn't enough, we're also giving the opportunity to actually sit down and chat with us one-on-one which we've never done before but I'm beyond ecstatic to do," said Aerie Saunders.
To check out Adult Model Mentors for yourself, visit AdultModelMentors.com or follow them on Twitter.